Posted: 9 Jul '14
Mortgage Life Insurance
There are two ways to insure your mortgage; you can use the banks mortgage protection or you can purchase a private life insurance policy.
So what should you consider when making this decision?
The biggest advantage to using bank mortgage insurance is that you are already at the bank and it's easy. But the advantage of this insurance starts and stops at that one stop.
If you look at the premiums, private life insurance in most situations is close to half the cost of bank insurance. And the healthier you are the bigger the premium spread. The only time the premiums come close is if you are a smoker. Because the banks basically sell smoker premiums to everyone. So why would you pay the extra cost?
Does the coverage stay level? Not with bank mortgage insurance the coverage decreases over the length of your mortgage where private coverage stays level. The premiums with the banks mortgage coverage stay quite level as the coverage decreases. After a few years of paying your mortgage and one of you should pass the bank is only protecting themselves. With the private coverage the difference between what you owe the bank and the total coverage goes to your family.
Can you choose the beneficiary? Not with bank insurance, the beneficiary is the bank, again they look out for themselves. With private coverage you choose your beneficiaries and they decide what to do with the money.
Once the mortgage is paid off what happens to the insurance? With private life insurance you can decide to keep all or part of your life insurance. With the bank insurance the mortgage is gone and so is your insurance.
Are the rates guaranteed? NO! The bank can increase the premiums because they own the policy. With private coverage the premiums are guaranteed and you can design the coverage to fit your needs.
So mortgage life insurance from the bank might be easy. But after that, from the high premiums to the lack of flexibility, to no guarantees bank mortgage insurance does not score any points other than easy.
And at the end of t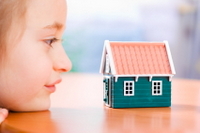 he day are you really insuring the mortgage anyway, isn't it the little people in the home you want to protect. Aren't they the real reason for the mortgage in the first place? Only the bank wants you to believe that the mortgage is the most important part. At the end of the day, life insurance pays a death benefit and that is a dramatic event for any family. And when you really think about it, the mortgage is a much smaller concern and the bigger concern is the family. Private life insurance leaves all the flexibility with the family. It is the right choice.