Posted: 4 Jun '13
Disability Insurance for Graduates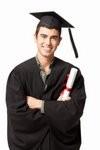 It's that time of year with graduations happening at all the universities. Young doctors, dentists, lawyers, engineers to name a few are leaving their studies and entering the work force.
Some have the option to purchasing disability insurance from their associations others may not have that option. Always consider a private plan over an association plan in your research.
The 3 most common questions you might be asking yourself are:
1. Does someone as young as me even need disability insurance?
There are two main reasons a young person should be purchasing disability insurance, first most private plans have level premiums fixed at the time you purchase and the younger you are the lower the premiums. Second, you are likely very healthy and making the purchase now locks the benefits in and give you the most opportunity for all the available benefits.
2. Should I just purchase the cheapest coverage?
Never purchase the cheapest disability coverage. Your income next to your health is the most important asset you have. Your income will buy you the life style you dream about. If a disability could occur and you have to stop work for one year or for a number of years your disability plan becomes the most valuable insurance policy you could ever have. It will provide you the income to live.
3. What should my monthly benefit be if I decide to purchase disability insurance at all?
The best disability plans come with an option to purchase more coverage in the future without providing medical evidence. So the amount you start with can be increased in the future without a medical, so the amount you start with should fit your budget. Get more when your income goes up.
In my experience Manulife Financial and RBC Insurance have very competitive disability plans for graduates. These are professional plans, with great benefits and low premiums.
As you might be getting from my blog I am a great proponent of disability insurance. Get it as soon as you start work, get as much as you can afford comfortably and speak to a disability insurance expert to learn as much as you can about your plan before you ever have to use it.